Package Bees & NUCS. Available for 2019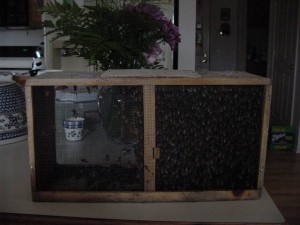 RESERVE NOW FOR 2019
3# Package of  Bees with Italian Queen available for pickup
April 8(Sold Out),  April 15,  April 29,  May 11
Price for 3# Package $125.00 Cash or check Add $4.00 for online order.
WE ALSO SHIP BEES
We will ship bees through USPS for $50 to Michigan, Ohio, Indiana. Shipping available to other states at an additional charge.
Shipping dates April 16, 30, May 12, 2019.
Order is not considered placed until payment is received
A couple thing to consider when buying a package of Bees.
Is it a 3# package or a #3 package. This looks the same but it is not. A 3# package will have 3 pounds of bees. A #3 is just a designation and has no guarantee of any bees.
How close is your package provider? Do you want to drive 3 hours each way to get your package? If you have a dead queen do you want to drive 3 hours each way again for a replacement queen?

Your Time is worth at least $10/hr and the IRS says your mileage is worth $.55/mile.

Can you get a replacement queen if needed?
Will your package provider return a call and answer any questions about the your package or installation.
Do they have any references?
If everything is equal then consider the price
After all the above how much a package costs is really the last thing to consider.
Contact me with any questions.
Call Bob Jastrzebski 734-748-2185
e-mail bob@cimsurf.com
Make checks out to
Bobilin Honey
46672 Mornington Rd
Canton, MI 48188